Let CIQ Experts Help You Migrate from CentOS to Rocky Linux for Long-Term Stability
CentOS users: Rocky Linux means stability, security, and longevity.
As you will see below, market adoption of Rocky Linux has been swift and is accelerating. While encouraging, that fact alone is not good enough.
What matters more is a robust community with key, well-known ecosystem partners to ensure commercial viability.
And of equal or greater importance is… an in-depth commitment to complete transparency and independence.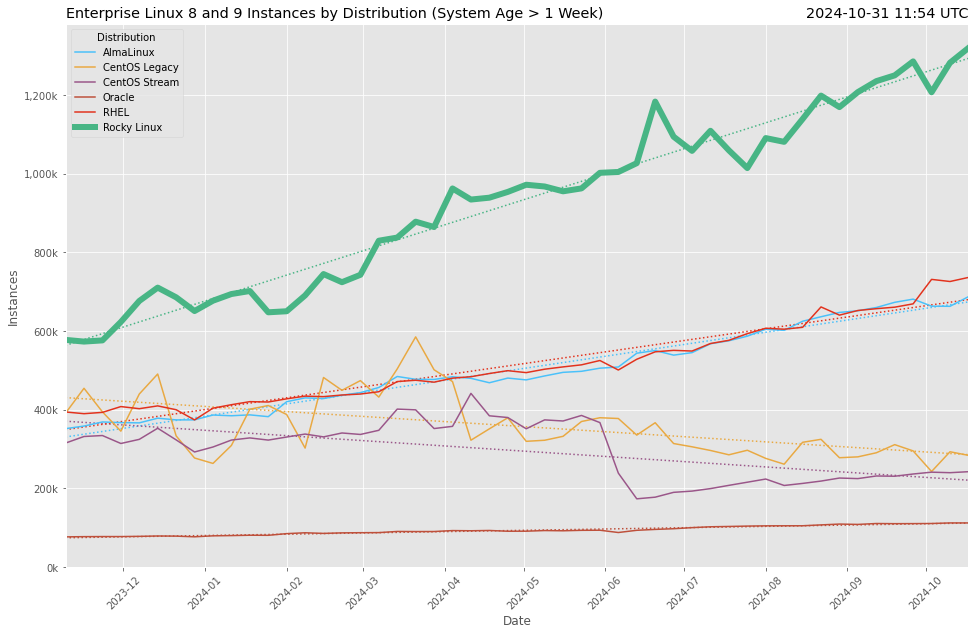 According to the latest metrics tracked by the Extra Packages for Enterprise Linux (EPEL) Special Interest Group (SIG),
Rocky Linux adoption is outpacing all other Enterprise Linux variants.
Rocky Linux was first released in June 2021, yet…
"Among all respondents… 7.7% indicated Rocky Linux was a 'primary' operating system and 12.9% 'secondary.' That gives Rocky Linux a presence among more than one in five respondents."
— Intersect360 Research, 2022
The Case for Rocky Linux Is Obvious (and Not So Obvious)
The co-founder of CentOS who happens to be our founder/CEO, Gregory Kurtzer, created Rocky Linux: an open source operating system designed to be bug-for-bug compatible with Red Hat Enterprise Linux.
Here are a few of the obvious reasons why Rocky Linux merits serious consideration:
Now for the Not-So-Obvious Reason: Peridot.
Peridot is one powerful example of Rocky Linux's commitment to independence and transparency.
It's a kind of "Independence Code," freely available.
A July 2022 Networkworld article describes it this way:
"Release 9 of Rocky Linux just made its public appearance on July 14, and the big news is something called Peridot, which anyone (yes, anyone) can use to reproduce Rocky Linux 9 from scratch on their own. This is a truly exciting turn for the Linux community."
Simply put, nobody knows Rocky Linux—and the requirements of CentOS users—better than CIQ. After all, CentOS' co-founder is our co-founder and the creator of Rocky Linux, Gregory Kurtzer.
Our team is best positioned to help you customize Rocky Linux and simplify its management at scale.
And our pricing model is without peer: We price based on people, not cores or sockets. People. This alone can vastly simplify your world.
"Open source communities encourage innovation through collaboration. Without it, many of the technologies we take for granted today would never have developed, or would be locked away behind patent law. In deploying Rocky Linux, we are returning to true open-source principles."
— Tareq Amin, CEO of Rakuten Mobile and Rakuten Symphony
Migrate To Rocky Linux with a Proven Team.
We're here to make your migration as pain-free as possible: helping with derisking, optimization, debugging, architecture, and more.