Rocky Linux is the Trusted Successor to CentOS
Broad Industry Support, Compatibility, and Value
What is Rocky Linux?
Rocky Linux is a free, open source operating system that is 100% binary compatible with RHEL. Now the fastest-growing Enterprise Linux distribution, Rocky Linux is widely adopted in enterprise and High Performance Computing (HPC) environments, as well as by leading cloud providers and hyperscalers. This ensures security, compatibility, stability, and scalability for enterprise and mission-critical applications.
"A little over a year ago, Rocky Linux arrived, and it was an instant hit."
— Steven Vaughan-Nichols, Senior Contributing Editor, ZDNet
Rocky Linux Benefits
Rocky Linux is built on a rock-solid foundation. Let's start with some key benefits:
Proven Stability
Rocky Linux is an open-source operating system, which means its source code is available for anyone to view, modify, and improve upon. Bugs are identified and fixed quickly by a large community of Rocky developers.
Extreme Compatibility
From day one, Rocky Linux has been fully compatible with Enterprise Linux. This is often referred to as "bug-for-bug compatibility." The bottom line is this: compatibility at the most granular level.
Broad Industry Involvement
Rocky Linux is sponsored by Google Cloud, Amazon Web Services, Microsoft Azure, VMware… just to name a few.
Enterprise-Level Linux Support
CIQ is the official founding support and services partner and sponsor of the Rocky Linux project. CIQ offers support for versions of Rocky Linux after they've been declared End-Of-Life (EOL).
CentOS Roots
The founder of Rocky Linux, Gregory Kurtzer (also a founder of CentOS), has made it clear that the goal of the community-driven project is to fulfill the original mission of CentOS: a free, supported Enterprise Linux distribution.
Security
Recently, Rocky Linux achieved the latest milestone in the FIPS 140-3 validation process: being named to the NIST Implementation Under Test List. This extensive validation process is being underwritten by CIQ as a gift to the community.
100% Open Source
Rocky Linux is fully customizable. You have full access to Rocky's source code so that you can view, modify, and improve upon it according to your unique needs.
Rocky Linux Adoption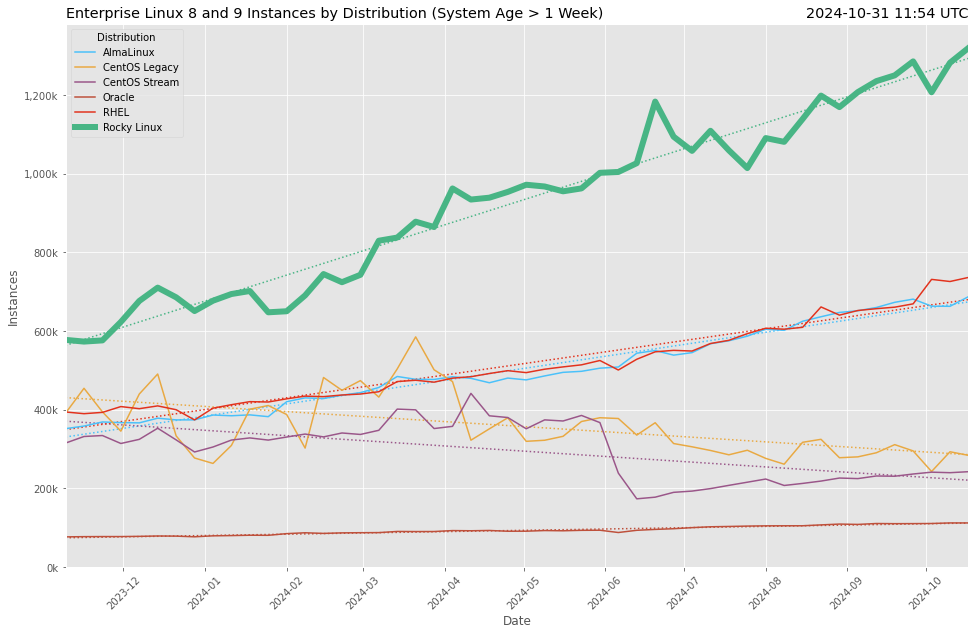 According to the latest metrics tracked by the Extra Packages for Enterprise Linux (EPEL) Special Interest Group (SIG),
Rocky Linux adoption is outpacing all other Enterprise Linux variants.
History of Rocky Linux
When it comes to technology, it's easy to become jaded. And there are good, self-protective reasons to be jaded.
A question: Do you remember that original Linux feeling? You may have been early to the Linus Torvalds party. Or maybe you've only recently arrived. But the feeling is the same:
"You mean I can download something for free that I can actually build stuff with?"
Yes. It is experiences like this for which the word "cool" exists. You know what we're talking about.
Gregory Kurtzer, our CEO and the creator of open source Rocky Linux—named to honor "Rocky" McGaugh, one of the most important programmers involved with the development of CentOS—understands that feeling.
He's built that sense of wonder, freedom, and empowerment into the code. And now a large and rapidly growing community is working and collaborating in that spirit.
"… Every Rocky Linux release is built 100% in the open, by the community, for the community. They ship with all of our infrastructure and secure material like keys and secure boot shims being managed by the RESF."
— Gregory Kurtzer, Rocky Linux Founder and CIQ CEO
A Bedrock Commitment to Independence
It is easy to see that Rocky Linux is built for and by the community. The proof is in our actions. Rocky Linux isn't released as just a bunch of binaries, repos, and ISO image installers; we release everything someone would need to replicate all of that work. Why is that important? Confidence. Transparency. Community. Trust. Security. You.
Why is that important? One key reason: Reproducibility. To quote Gregory Kurtzer:
"Anyone can create, build, enhance, and manage Rocky Linux as we do."
And Peridot helps to facilitate quick and seamless releases of new versions of the Rocky Linux distribution, as well as routine maintenance software updates and security patches.
Let's review: The very open source tool used by the Rocky Linux community to make the operating system better—or to even reproduce it from scratch—is free and fully available to… you. If that doesn't give you some original Linux feels, nothing will.
"We believe that open source software should never be held hostage. A Linux distribution delivers all of the work from the open source community and combines it into a usable platform, and is thus the steward of all of the community's work. It should always be free and belong to the community from which it came. It is our job to create value and make it better."
— Robert Adolph, Chief Product & Revenue
Officer & Co-Founder
"Open source communities encourage innovation through collaboration. Without it, many of the technologies we take for granted today would never have developed, or would be locked away behind patent law. In deploying Rocky Linux, we are returning to true open-source principles."
— Tareq Amin, CEO of Rakuten Mobile and Rakuten Symphony
Get Information About Our Rocky Linux Support Offerings
Our solution architects will be in touch with you as soon as possible.